KGI Pre-PA Program
Program Overview
The Postbac Pre-Physician Assistant Certificate Program (PPA) at Keck Graduate Institute is a one-year program that provides students with the opportunity to: (1) demonstrate their ability to succeed in a rigorous graduate environment, (2) learn unique knowledge and skills from the biomedical industry to offer physician assistant schools and (3) continue towards completing a master's degree with an additional year if desired. This program is best suited for students who are not only looking to further improve upon their credentials, including the need for additional clinical hours, but to develop breadth and depth to enrich their future career in health care.
Physician Assistant (PA) programs require a wide range of clinical hours from 0 up to 2,000. In partnership with COPE Health Solutions, KGI PPA students will have the opportunity to gain clinical experience within one or more of the hospital sites in the COPE Health Scholars program. Students will rotate through two departments every three months and can earn a minimum of 30 hours of training and 576 hours of health care field experience across 15-months. Additional hours, up to 800 hours, may be available depending on department and shift availability. Upon fulling program requirements, students will receive a completion certificate from the UCLA Executive Programs in Health Policy and Management.
Program Requirements
Must be enrolled in the KGI Postbac Pre-PA Certificate Program (PPA)
Complete Health Scholar online application no later than deadline provided for desired rotation start date
Schedule and complete an in-person interview with the COPE Health Scholar team
Complete the hospital clearance process by site-specific deadlines
Attend all required training hours AND pass entrance exams with a minimum of 80% Please note that student must pass exam in order to continue the program.
Schedule and attend two, 4-hour shifts per week for a duration of 18 months or an equivalent of six (6) rotations.
General Immunization Requirements
Students must provide documentation from a verifiable lab or physician confirming they have received or are in the process of receiving the immunizations listed below. Please note that some immunization requirements may vary by clinical site and will be further defined upon site placement.
Measles, Mumps, Rubella vaccination series and/or titer test
Hepatitis B vaccination series and/or titer test
2-step TB skin test and/or chest x-ray or Quantiferon blood test
Varicella vaccination and/or titer test
TDAP vaccination
Additional Requirements
In addition to the immunization requirements, all students must provide/complete the following prior to training:
Copy of signed American Heart Association BLS Health Care Provider CPR card
Copy of health insurance card (front and back) and legal photo ID (e.g. driver's license)
Complete and sign program forms (e.g. confidentiality and adherence agreements)
Clear background check
Clear health screening
Sample Tier System*
Students will rotate through several departments per site across the course of the 15-month program. Clinical departments are divided into tiers per site, and students will move into the next tier based on total number of hours completed and current rotation. Below is an example of the types of department per tier that a student might rotate through at a site.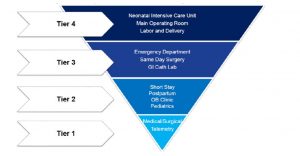 *Departments vary by clinical site. Not all departments are available at all sites.
Sample Timeline
| | | | |
| --- | --- | --- | --- |
| Rotation | Shift 1 | Shift 2 | Total Hours Completed |
| Rotation 1 | Tier 1 | Tier 1 | 96 hours |
| Rotation 2 | Tier 2 | Tier 1 or 2 | 192 hours |
| Rotation 3 | Tier 3 | Tier 1 or 2 | 288 hours |
| Rotation 4 | Tier 4 | Tier 1 or 2 | 384 hours |
| Rotation 5 | Tier 3 or 4 | Tier 1 or 2 | 480 hours |
| Rotation 6 | Tier 3 or 4 | Tier 1 or 2 | 576 hours |
Locations and Deadlines
Students have the option to select from a variety of locations. Locations and deadlines will follow the pattern of the Health Scholar program. View the locations and deadlines here. For questions, contact admissions@copehealthscholars.org.