The Health Scholar program provides immersive, hands-on education for future health care professionals. Participants experience direct patient interaction while rotating among different clinical and administrative departments in a provider setting.
I asked Jericha Viduya to describe herself, and she answered confidently that she is "music, medicine, and the underserved community."
Jericha has served as a Health Scholar at Riverside Community Hospital since November, 2012. The Health Scholar program exposes students like Jericha to an educational experience within a hospital setting, including the daily demands, expectations and realities of health care delivery.
When speaking with Jericha, you immediately sense the authenticity of her personal mission to improve the health of her community. As a student studying biology at University of California, Riverside (UCR), she founded the Riverside Community Choir for Underserved Youth, working with 6-16 year olds from a Path of Life Ministries homeless shelter.
Why music?
"I have a passion for it," she says, "and there is no point in a passion if you do not share it."
At UCR's TEDx this May, she got the chance to share the results of her efforts. Jericha was nominated by professors working with the UCR Honors Program to present her 11-person ensemble. She described the special moment after the choir sang, when the entire audience stood in applause.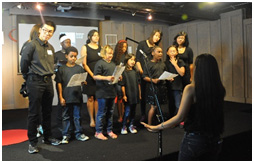 "It was just amazing," she said.
At Riverside Community Hospital, Jericha has been exposed to the unique challenges of the local community, especially with the homeless population.
"Riverside has a large population of underserved youth," she explains. I always want to walk up to them, to ask them about their day – this is the community I feel a rapport with. I really love the people here."
Joining the Health Scholar program at Riverside Community Hospital is an extension of her mission: "It is actual patient care," she says. "Other programs are filled with clerical duties, but here you get to offer tangible help to patients. With the Health Scholar program, I feel like I can really help patients [from this community]."
At COPE Health Solutions, we are thrilled to support the development of incredible future health care professionals like Jericha. She is an example of whom we hope tomorrow's physicians will be.